Wedding Catering by Chef & Griddle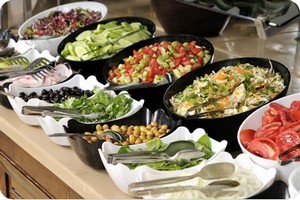 The decision to go ahead and get married is one that many of us choose, and has led to much happiness in the society in which we live. Getting the catering right at a hog and spit roast catered wedding event can make the difference between a 'good' occasion and a truly 'memorable' one. Having catered at weddings at the very highest level within the British Isles, our commitment to providing the ultimate in exquisite hog and spit roast inspired food at your wedding day has allowed us to quickly become the nations favourite.

The wedding itself, as a ceremony and an occasion in its own right, has been a part of the fabric of our culture for over hundreds of years. Celebrating the formal joining of a man and a woman, in the eyes of both God and those who form the hub of love and appreciation around the couple, the marriage ceremony allows a couple to become legitimately joined in society. Many people today, both here and in other western and developed nations, see marriage as somewhat of a time-locked tradition. Seen by some as standing for an era gone by, it can be extensively argued that the tight bonds which bind husband to wife, and vice-versa, are not as tight as they used to be. Today, where once the marital vows stood in order to withstand the rigours of time from a moral stand-point, wedding vows and the subsequent binding nuptials form a key legal agreement which hinges around property and possession in the eyes of the state. With such legality, it is of the highest amounts of pleasure that we still see so many young couples enjoying their wedding day, and celebrating their love for each other. In turn, the families of those whom become married also become rejuvenated by the experience as well as being overjoyed at the new found happiness which their friends and relations are experiencing.