Hog Roast Hereford & Worcester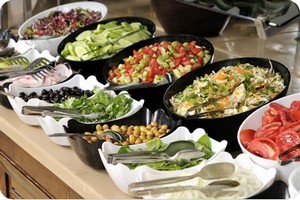 You'd be forgiven for thinking that Worcester was at the epicentre of the region but we also cover other places in the county, including Dudley and Kemerton. If you live just outside the border near Hereford we're more than willing to come out and help should you require our services. Given the great transport links available to Worcester, we can be there for your function as soon as possible, so we can get on straight away with cooking your spit-roast.

As can be the case in many predominantly urban counties, the issue of having a space big enough to cook a spit-roast is quite tricky. Thankfully, our spit-roasts don't take up a lot of space, and can easily be hosted in a small back garden, with room for all the side dishes too. We offer a range of side dishes, including salads, Dim Sum, samosas, bhajis and assorted canapes, so there's a bit of everything if you choose the right option from our extensive menu, especially if you don't want to leave out any of your vegetarian or vegan friends.

Our company are fully aware that there are communities in the county that don't eat pork on religious or ethical grounds. This is why we offer a range of options on our many different menus, including beef, lamb, chicken and turkey. We even have a vegetarian option on offer, so that you can have all the fun of eating from a spit roast, without enduring any of the guilt.

Whether you're a student or a worker, religious or atheist, or if you just want a good time, there's nothing like having a spit-roast at the centrepiece of your celebrations. For more information, feel free to look round our website at our detailed menus and what equipment we use. By utilising our very own and special hog and spit roasting machines, we give our clients the most exceptional levels of theatre; not just glorious food. By engaging our clients in a truly sensory experience, we give the people of Worcester and Hereford a level of catering which is truly spectacular. The sight of a slowly rotating hog is something which not many people can resist. On top of this, the luxurious and licking flames add both flavour and drama to the whole spectrum of the catering experience. And its not only the adults that love it; the children can see where real food comes from. And crucially, how real food can taste!