Hog Roast Hornchurch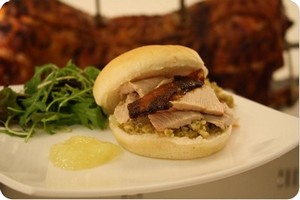 I was asked to cater a hog roast in Hornchurch at a celebration called Battle of Britain Day. Hornchurch used to be home to an RAF airfield during World War II and so is happy to be the place which honours the veterans of that war.
I have been a hog roast caterer for a few years now and I am always happy to be part of any type of tradition which honours those who fought for this wonderful country of ours. I immediately said yes to the job and began to plan for a fabulous hog roast Hornchurch.
The name Hornchurch came about from the one church the town had all those millennia ago. Apparently, it had some sort of feature which looked, to the townsfolk, like horns and so the church itself was called the Horned Church. Strange but true! Hornchurch was a prosperous place way back then with agriculture and leather being its mainstays. Later on though, brewing took over as well as foundries for the making of such varied items as farm equipment, roof tiles, and drainpipes. It remained a small village until 1885, which saw the railway come to town. This created growth which continues to this day. Currently, Hornchurch is home to well-to-do commuters who work in 'The City'.