Hog Roast Bolsover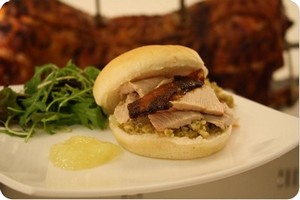 With little over 11,000 residents Bolsover is a small town, but one that leaves a lasting impression for visitors. With houses nestled in the luscious green scenery, and Bolsover Castle overlooking, it's the stuff postcards are made of and has been the setting for many an artist to paint a picture. We're never short of inspiration when working here.
Nobody is quite sure where Bolsover gets its name, it's thought that it could derive from the Old English term for Bull's Ridge. Bolsover also makes an appearance in the Domesday Book, when the town was known as Belesovre.
The castle is what Bolsover is best known for and that was constructed in 1613, which is quite a bit longer than we've been here, but not quite as long as hog roasting has been around. Other well known attractions to the area is the model village and Creswell Crags, which houses Britains only palaeolithic cave art - not surprisingly, Creswell Crags manages to pre-date hog roast catering by a little while!