Hog Roast Castletown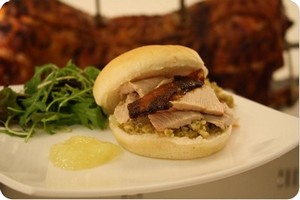 Formerly home to the Tynwald before they decamped to Douglas there's more to this is picturesque little hamlet than meets the eye. Much more. The fishing boats are far fewer these days but a new financial base has developed at a rate of knots and clearly the good folk of this southern corner of the Isle of Man are quick at spotting new avenues to explore and going for it. This suits us at chef and griddle down to the ground because we enjoy a challenge too… and they certainly keep us on our toes as we create our famous hog roast Castletown style! We pride ourselves on delivering an ancient style of dining that harks back to the Middle Ages but in with very contemporary feel . Certainly the demand suggests hog roasts are as popular today as they were for the original inhabitants of the impressive Castle Rushan all those years ago. Quality, they say, never goes out of fashion.
'Busy' is the right description too; from private soirees to full on festival and tin bath championship crowds our chefs and service teams are out and about creating bespoke culinary adventures. On Monday it's a party to celebrate Ali's birthday in her garden overlooking the harbour . On Tuesday we're in Ballabeg for the Major's retirement and on Thursday evening we're catering for a formal black tie dinner of a certain retail chain in the grounds of the castle. On Saturday we're looking after the guests at Bob and Trish's wedding reception (congratulations, guys!) and then… well, you get the general idea. We've certainly learned to be resourceful and creative in our approach to creating the kind of hog roast Castletown (or at least your special bit of it) will not forget any time soon!