Hog Roast Bristol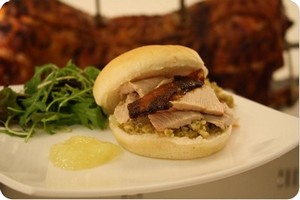 Here at Chef and Griddle we know that food at any event is very important. In fact, it is often the main thing talked about and one of the most remembered points of the day. We are, after all, creatures of comfort in the end. A good meal is remembered for a long time; and the image of a hog roast Bristol event is one which musters up the warmth of a traditional British meal in addition to tantalising the taste buds. Though there is no doubt that the practice of hog roasting has been around for longer than we can be sure, it seems that is was most popular in England during the middle ages. Of course, the cooking of an entire hog could feed a great deal of people at once – not to mention, made a great centrepiece at banquets and feasts. The cooking method of skewering a pig and roasting it over an open fire can't have been easy for whoever was turning the spit for hours.
Today, hog roasting is really taking off, and we are very happy to offer competitive prices and excellent service in Bristol. Exactly why hog roast in Bristol catering is becoming so popular is quite clear; for one, a whole roasting hog is quite the spectacle and looks fantastic as a highlight of your event. The taste, of course, is another reason; our hog roast hire Bristol machines cook the meat to perfection. And then there's the fact that one hog can feed a great deal of people. Given the current economic climate, we are proud to offer excellent service at competitive prices and eager to deliver exactly what you need for your event. If you need staff to wait on tables, we can provide them. If you want a specially trained chef to carve the roast, we can provide that too.
We can cater to events with hundreds of guests, as our hog roasting machines are capable of cooking entire pigs of up to 100kg in weight. At large events we can provide waiting staff, and usually only need to provide one chef; we also offer delivery of a hog roasting machine for hire should you wish to lay claim to the pride of cooking a whole hog for your guests in Bristol. Nothing is quite so impressive and theatrical as a full pig roasting to perfection over one of our expertly made roasting machines. It is certainly the talk of the party! The room fills with the delectable scent of pork crackling and roasting wonderfully, and - if needed - we can provide canapés and finger foods while your guests wait.